ZT1819L 1/4 inch Air Hydraulic Riveter
Full Aluminum Housing Series
Applications
Wherever the fastening methods like: welding, sheet metal screw, bolt, nut, washer, tubular, semitubular and solid rivets and adhesives are applied, can be substituted by blind rivets.
All models above are good for setting standard blind rivets and structural blind rivets.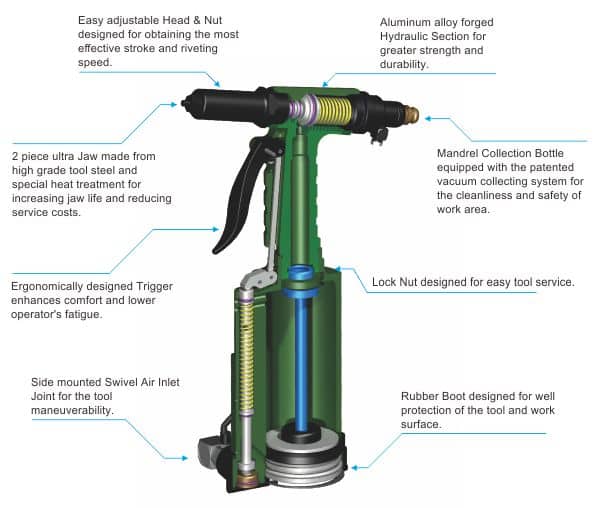 Features
Easy adjustable Head & Nut designed for obtaining the most effective stroke and riveting speed.

Aluminum alloy forged Hydraulic Section for greater strength and durability.

2 piece ultra Jaw made from high grade tool steel and special heat treatment for increasing jaw life and reducing service costs.

Mandrel Collection Bottle equipped with the patented vacuum collecting system for the cleanliness and safety of work area.

Ergonomically designed Trigger enhances comfort and lower operator's fatigue.

Lock Nut designed for easy tool service.

Side mounted Swivel Air Inlet Joint for the tool maneuverability.

Rubber Boot designed for well protection of the tool and work surface.
Specification:
Traction Power : 3960(1800) Ibf(kgf)

Stroke Length : 3/4(19) inch(mm)

Net Weight : 5.60(2.55) lbs(kgs)

Operating Air Pressure : 90(6.2) PSI(bar)

Air inlet Size : 1/4 Inch-NPT/PT

Min. Hose Size : 3/8(10) Inch(mm)

Nosepieces Equipped : 3/16(4.8)1/4(6.4) Inch(mm)
DDO NOT apply air pressure over 110 psi / 7.5 bar to these tools.
*T: Trigger Type, No-Vacuum. *L: Lever Type, No-Vacuum. *LV: Lever Type, With Vacuum
*Please refer to the blind rivet specification to ensure the tensile strength is lower than the traction power of the model you select.
Model

Traction




Power




lbf(kgf)

Stroke




Length




inch(mm)

Net Weight




lbs(kgs)

Nosepieces




Equipped




inch(mm)

Max. Capacity

ZT0618T

1320(596)

11/16(18)

3.30(1.50)

3/32(2.4)1/8(3.2)




5/32(4.0)3/16(4.8)

Max. 3/16″(4.8mm) blind rivets in steel/steel

ZT0918T

1983(900)

11/16(18)

3.96(1.80)

3/32(2.4)1/8(3.2)




5/32(4.0)3/16(4.8)

Max. 3/16″(4.8mm) standard & structural




blind rivets in all materials

ZT1214T

2460(1200)

9/16(14)

4.16(1.89)

5/32(4.0)3/16(4.8)




1/4(6.4)

Max. 1/4″(6.4mm) blind rivets in steel/steel

ZT1819T

3960(1800)

3/4(19)

5.61(2.55)

3/16(4.8)1/4(6.4)

Max. 1/4″(6.4mm) standard & structural




blind rivets in all materials

ZT0918L

1983(900)

11/16(18)

3.96(1.80)

3/32(2.4)1/8(3.2)




5/32(4.0)3/16(4.8)

Max. 3/16″(4.8mm) standard & structural




blind rivets in all materials

ZT0918LV

1983(900)

11/16(18)

4.07(1.85)

3/32(2.4)1/8(3.2)




5/32(4.0)3/16(4.8)

Max. 3/16″(4.8mm) standard & structural




blind rivets in all materials

ZT1214L

2460(1200)

9/16(14)

4.16(1.89)

5/32(4.0)3/16(4.8)




1/4(6.4)

Max. 1/4″(6.4mm) blind rivets in steel/steel

ZT1214LV

2460(1200)

9/16(14)

4.27(1.94)

5/32(4.0)3/16(4.8)




1/4(6.4)

Max. 1/4″(6.4mm) blind rivets in steel/steel

ZT1819L

3960(1800)

3/4(19)

5.60(2.55)

3/16(4.8)1/4(6.4)

Max. 1/4″(6.4mm) standard & structural




blind rivets in all materials

ZT1819LV

3960(1800)

3/4(19)

5.72(2.60)

3/16(4.8)1/4(6.4)

Max. 1/4″(6.4mm) standard & structural




blind rivets in all materials
*Operating Air Pressure: 90PSI/6.2bar *Air Inlet Size: 1/4 inch-NPT/PT *Min. Hose Size: 3/8″(10mm)