ZRN1606E Air Rivet Nut Tool
FOR IMPERIAL SYSTEM
Features
Features with the most advanced patented digital module to enable operators know the rivet tool setting capacity instantly under various air supply condition and the rivet setting cycles performed during their working period.

It will also remind operators when to do service or maintenance to the tool in proper interval.

It will help to cease the controversy about warranty issue especially if the tool has been misused or abused with abnormal high air pressure which exceeds the design specification.

Built with patented "Module units assembled in composite clam shell housing" for the ease of tool service.

Forged and heat treated aluminum alloy made Hydraulic Section for the best rigidity.

Easy adjustable Head & Nut designed for obtaining the most effective stroke.

Ergonomic texture coated composite housing for operator's comfort.

Swivel air inlet design for maneuverability works.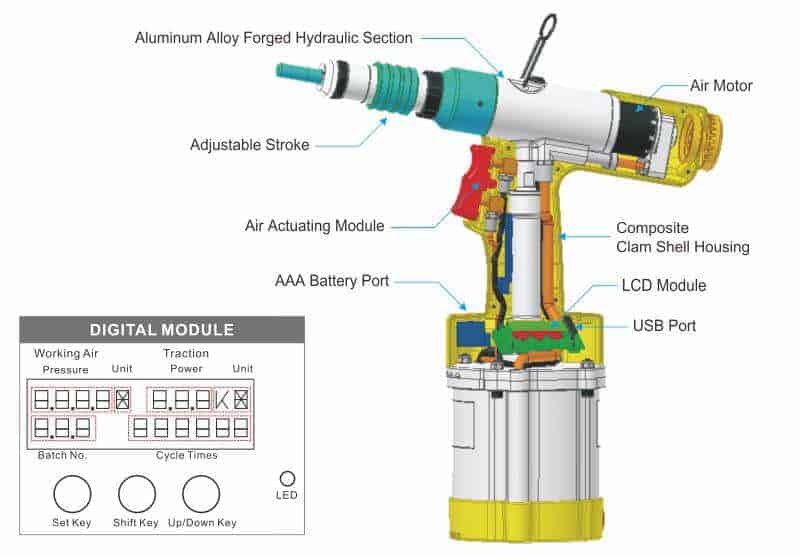 Aluminum Alloy Forged Hydraulic Section

Adjustable Stroke

Air Motor

Air Actuating Module

Composite Clam Shell Housing

AAA Battery Port

LCD Module

USB Port
Specification:
Traction Power: 3500(1600) Ibf(kgf)

Stroke Length: 6 mm

Net Weight: 4.9(2.2) lbs(kgs)

Rivet Nut / Rivet Stud Setting Capacity: #8-32~3/8″-16 rivet nut in Hex./Steel 1/2″-13 need 100psi/7 bar operating pressure
DO NOT apply air pressure over 110 psi / 7.5 bar to these tools.
*Please refer to the blind rivet specification to ensure the tensile strength is lower than the traction power of the model you select.
Model

Traction




Power




lbf(kgf)

Stroke




Length




inch(mm)

Net Weight




lbs(kgs)

Rivet Nut / Rivet Stud




Setting Capacity

ZRN1606E

3500(1600)

1/4(6)

4.9(2.2)

#8-32~3/8″-16 rivet nut in Hex./Steel




1/2″-13 need 100psi/7 bar operating pressure

ZRN1606ED

3500(1600)

1/4(6)

4.9(2.2)

#8-32~3/8″-16 rivet nut in Hex./Steel




1/2″-13 need 100psi/7 bar operating pressure

ZRN1606M

3500(1600)

1/4(6)

4.9(2.2)

M4~M10 rivet nut in Hex./Steel




M12 need 100psi/7 bar operating pressure

ZRN1606MD

3500(1600)

1/4(6)

4.9(2.2)

M4~M10 rivet nut in Hex./Steel




M12 need 100psi/7 bar operating pressure

ZRN2508E

5500(2500)

5/16(8)

5.4(2.4)

#8-32~1/2″-13 rivet nut in all materials

ZRN2508ED

5500(2500)

5/16(8)

5.4(2.4)

#8-32~1/2″-13 rivet nut in all materials

ZRN2508M

5500(2500)

5/16(8)

5.4(2.4)

M4~M12 rivet nut in all materials

ZRN2508MD

5500(2500)

5/16(8)

5.4(2.4)

M4~M12 rivet nut in all materials

ZRS1606E

3500(1600)

1/4(6)

4.9(2.2)

#8-32~3/8″-16 rivet stud in all materials

ZRS1606ED

3500(1600)

1/4(6)

4.9(2.2)

#8-32~3/8″-16 rivet stud in all materials

ZRS1606M

3500(1600)

1/4(6)

4.9(2.2)

M4~M10 rivet stud in all materials

ZRS1606MD

3500(1600)

1/4(6)

4.9(2.2)

M4~M10 rivet stud in all materials

ZRS2508E

5500(2500)

5/16(8)

5.4(2.4)

#8-32~3/8″-16 rivet stud in all materials

ZRS2508ED

5500(2500)

5/16(8)

5.4(2.4)

#8-32~3/8″-16 rivet stud in all materials

ZRS2508M

5500(2500)

5/16(8)

5.4(2.4)

M4~M10 rivet stud in all materials

ZRS2508MD

5500(2500)

5/16(8)

5.4(2.4)

M4~M10 rivet stud in all materials