PS072 Pulse Screwdriver /
Pistol Type
, Auto Shut-Off Type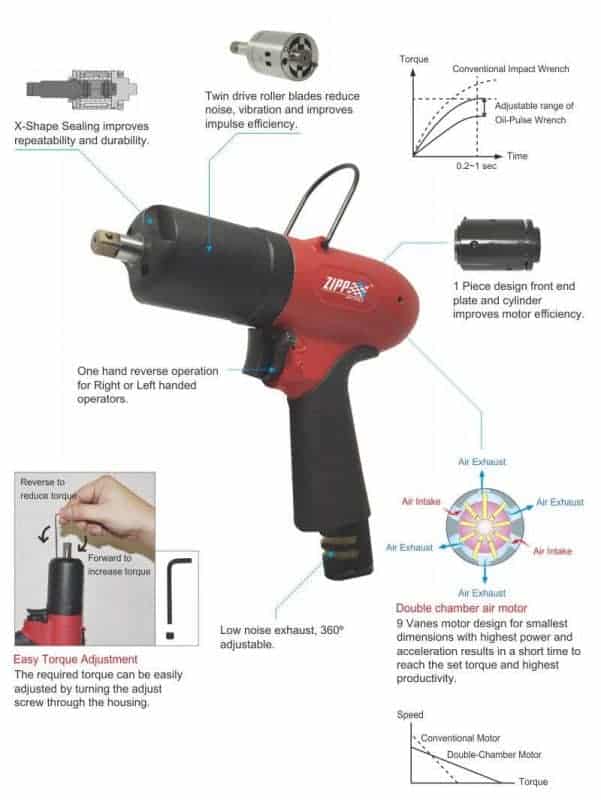 X-Shape Sealing improves repeatability and durability.

Twin drive roller blades reduce noise, vibration and improves impulse efficiency.

1 Piece design front end plate and cylinder improves motor efficiency.

Double chamber air motor


9 Vanes motor design for smallest dimensions with highest power and acceleration results in a short time to reach the set torque and highest The required torque can be easily productivity.

One hand reverse operation for Right or Left handed operators.

Low noise exhaust, 360º adjustable.

Easy Torque Adjustment


The required torque can be easily adjusted by turning the adjust screw through the housing.
Specification:
Hex Drive: 1/4″ HEX

Bolt Capacity: M8~M10

Measured on Hard Joint
Min. Oil Pressure / 0.4MPa: 20(14.8) Nm(Lb-ft)
Min. Oil Pressure / 0.5MPa: 20(14.8) Nm(Lb-ft)
Min. Oil Pressure / 0.6MPa: 22(16.2) Nm(Lb-ft)
Max. Oil Pressure / 0.4MPa: 30(22.1) Nm(Lb-ft)
Max. Oil Pressure / 0.5MPa: 32(23.6) Nm(Lb-ft)
Max. Oil Pressure / 0.6MPa: 35(25.8) Nm(Lb-ft)


Free Speed: 5500 rpm

Air Cons.: 0.45 m3/min

Noise Level: 88 dB(A)

Net Weight: 1.3 kg

Air Inlet Size: NPT 1/4″

Recommended Gauge Air Pressure: 60~90psi(4kg/cm²~6kg/cm² )(0.4Mpa~0.6Mpa)

Air Hose Size: 10mm x 6.5mm (for 042~062 model ), 12mm x 8mm (for 072 model)


Above DATA Are All Measured At 4kg/cm²~6kg/cm² Gauge Air Pressure
Model

Square




Drive

Bolt




Capacity




mm

Measured on Hard Joint / Nm(Lb-ft)

Free




Speed




rpm

Air




Cons.




m³/min

Noise




Level




dB(A)

Net




Weight




kg

Min. Oil Pressure

Max. Oil Pressure

0.4MPa

0.5MPa

0.6MPa

0.4MPa

0.5MPa

0.6MPa

PS042

1/4″HEX

M4~M6

4(3)

5(3.7)

6(4.4)

9(6.6)

10(7.4)

11(8.1)

4500

0.4

80

1.06

PS052

1/4″HEX

M5~M8

7(5.2)

8(5.9)

9(6.6)

17(12.5)

17(12.5)

19(14)

5800

0.4

85

1.06

PS062

1/4″HEX

M6~M8

11(8.1)

12(8.9)

13(9.6)

20(14.8)

22(16.2)

25(18.4)

5800

0.43

85

1.08

PS072

1/4″HEX

M8~M10

20(14.8)

20(14.8)

22(16.2)

30(22.1)

32(23.6)

35(25.8)

5500

0.45

88

1.3